About All Aboard America

Making Memories
With Miles
Why All Aboard America?
All Aboard America has a distinguished history that dates back to 1936 when Henry Page formed the Potash Mines Transportation Company to transport potash miners to and from their jobsites in Southeast New Mexico. Trailers pulled by trucks were the original buses of the company. As the trailers traveled through the southwest, smoke stacks through the roofs of the trailers sent out puffs of smoke from pot belly stoves that kept the miners warm as they traveled.
Henry's daughter Coradene and her husband Jack L. Wigley later formed Industrial Bus Lines, Inc. to expand the original business into West Texas and Arizona, merging the two companies in 1971. As Industrial Bus Lines continued to expand, it needed a new name to better identify the company and its wide array of services. In 1989, All Aboard America became the new company name.
Today All Aboard America is part of the 4th largest motorcoach company in the US: All Aboard America Holdings. We are proud of our strong roots in the southwest and our family-oriented workplace. We pride ourselves in taking care of our dedicated team of employees as well as our valued customers who expect the very best service possible. Our mission is a unified effort to provide exceptional safety for everyone who steps aboard an All Aboard America motorcoach.
OUR PEOPLE ARE OUTSTANDING
Having tenured employees who love their jobs helps us serve you better. Looking to join our team? View our careers page now.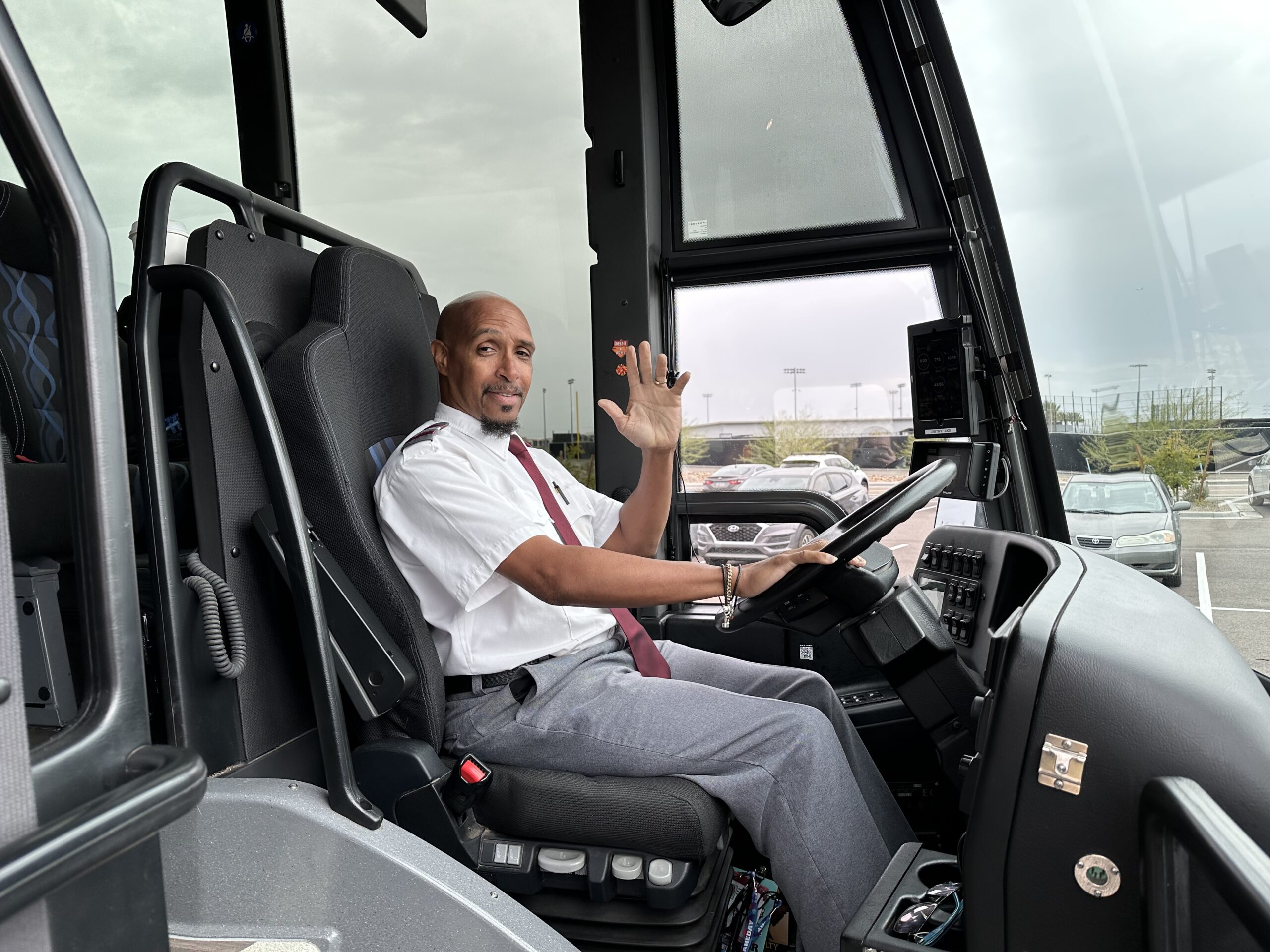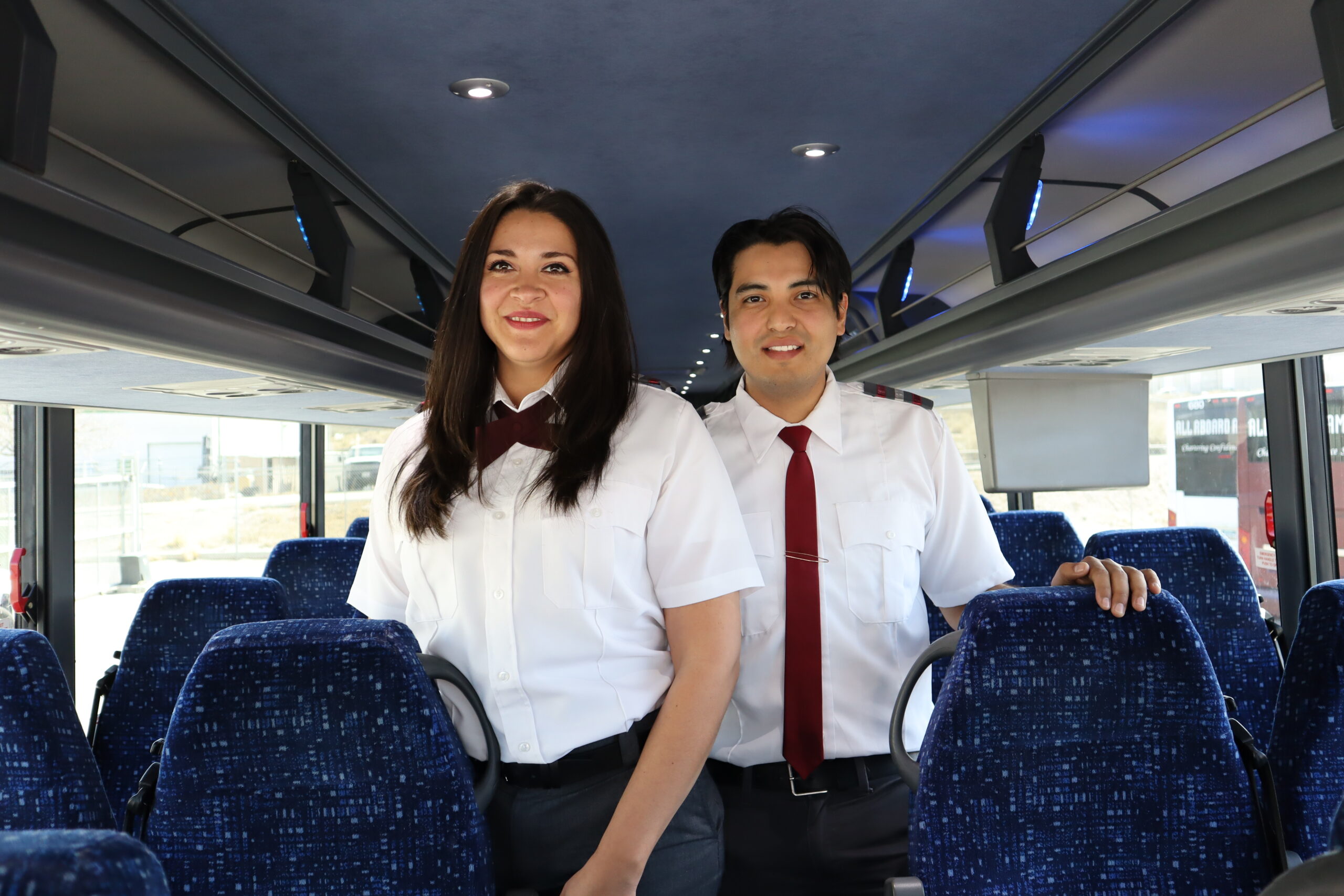 24/7 CUSTOMER SUPPORT
Your travel needs aren't limited to a 9-5 schedule, so neither are we. Our team of highly trained dispatchers and mechanics are on-call 24/7. No matter the time of day or night, they're ready to provide expert service.
TOP OF THE LINE AMENITIES
With amenities like WiFi, power outlets, reclining seats, and on-board restrooms, our modern motorcoaches are comfortable and convenient.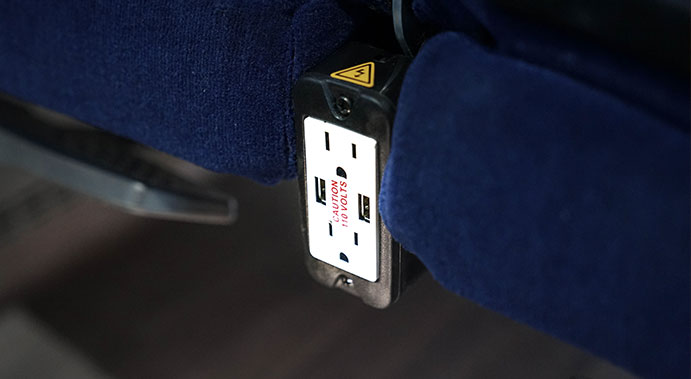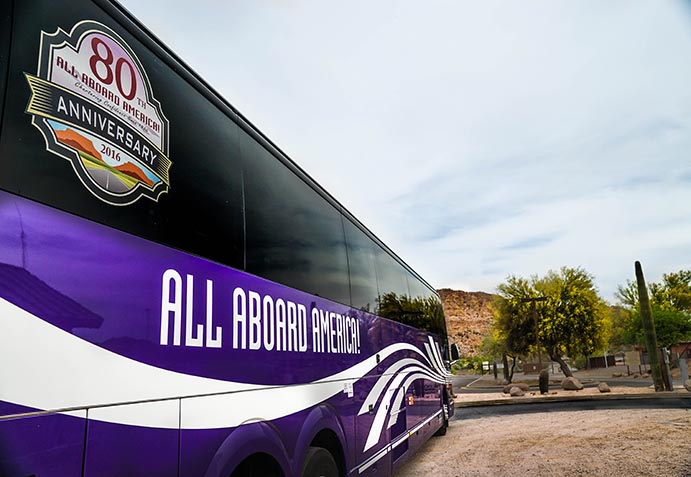 Industry Award-Winners
All Aboard America is proud of Wade Stewart, 2023 Motorcoach Operator of the Year for the American Bus Association, as well as Jaime Herrera, Samsara Driver of the Year 2022. Previously, All Aboard America has been the recipient of the UMA Green Highway Award, the UMA Vision Award, the IMG Operator of the Year Award, and the UMA Motorcoach Industry Achievement Award. These awards demonstrate our commitment to our team, protecting the environment and providing excellent service to our customers.
Group Charter Buses
We provide customized charter bus rentals for groups of every type and size. From concerts and field trips, to corporate events and weddings, you can count on All Aboard America for your group transportation needs.
Employee Contract Services
Whether you're looking for employee transportation for one day or every day, we've got you covered. Let us move your people.
Here's What Our Clients Say
"I wanted to let you know that our Director of Ops reported back to us that they had a FABULOUS experience with your services in Phoenix! And especially had a big shout out to Shawn, their driver. In her words: "Our bus driver Shawn, was also amazing! by far the best one we have had to date" So, from Ashley and I here at Anthony Travel/UCF – huge thank you for all that you do for our teams."
-Tammie Manbeck, Account Manager for UCF Athletics
"The coach service provided by AAA was, as always, first class all the way, and Bob was a hit with my passengers. It's a pleasure working with EVERYONE at AAA, and we'll definitely be back again with another group."
- Bob Oliver, Manager-Group Travel Sales, Legacy Tour & Travel
"I just wanted to let you know how great your bus service is. From the very start, your company was on top of everything. I also wanted to let you know how amazing our driver Shannon was. She was on time, communicated very well and had amazing customer service. I look forward to booking with you guys on the future and hopefully Shannon is still there! Thanks again!"
-FF John Gutierrez, Chandler FD
"Once again, we had an amazing trip. All Aboard America continues to show high quality and professional service."
-Ryan A., St. Mary's High School
"We look forward to a long relationship with All Aboard America!"
-Gordon R. Bartlett, Bartlett Tours
"I want to thank you for all your help with the SCG Garden Club adventure to Palm Springs. It was perfectly executed by All Aboard America, from initial contact to the end. Everything was as promised!! Unusual these days."
-Mary Jo Whittle, Surprise, Arizona
"Good morning! Zach Hawkins was just an AMAZING DRIVER! He is very knowledgeable, professional and patient. He is definitely an asset to your company. I am definitely telling all of my future sponsors to request him as a bus driver if they need to leave out of state. He really made our trip fun and exciting! All of our students had nothing but nice things to say about Zach! Thank you again,"
-La Cholla Metro Tech H.S.
"Please convey our very best wishes to everybody, and many thanks for a job well done. You have a great team that worked hard to ensure that everything ran smoothly."
-Navaz Ghaswala, Forever Living Products
"Your professionalism and willingness to help out making sure that everyone was taken care of was refreshing and commendable."
-Sarah Rice, The Westin Kierland
"You made it a great experience that has them coming back for more – thank you!"
-Sunbird Irish Club
"We appreciate you excellent customer service, especially in finding the guide at such short notice!! Opportunities to work in your area don't come around often but our vendor list there is a short one, All Aboard America is the only name on our list!"
-Tam Chavez, Tour New Mexico, Inc.
"II wanted to thank you for the outstanding job you and your staff did for us at the recent Spring Training '09 event in Phoenix. Gary, Jim and all of your drivers were very professional and did everything we asked in a top-notch manner. Your equipment was high quality and the participants noticed that. Of all the years I have been involved with these programs, your transportation service was the best I've experienced. Thank you for a job well done!"
-Cliff Gordon, John Deere Training Center
"Rancho Solano has been chartering transportation with All Aboard America for over five years for trips as small as a Kindergarten field trip to a Fire Station all the way up to the 8th grade week long trip to Catalina Island. All Aboard America's drivers are professional and friendly at all times with the Rancho students and staff; and every trip goes off without a hitch! With any trip, Rancho Solano's first priority is safety on all fronts and especially when it comes to the transportation of our students; and we know that when we travel with All Aboard, our students are in good hands."
-Salina Jones, Rancho Solano